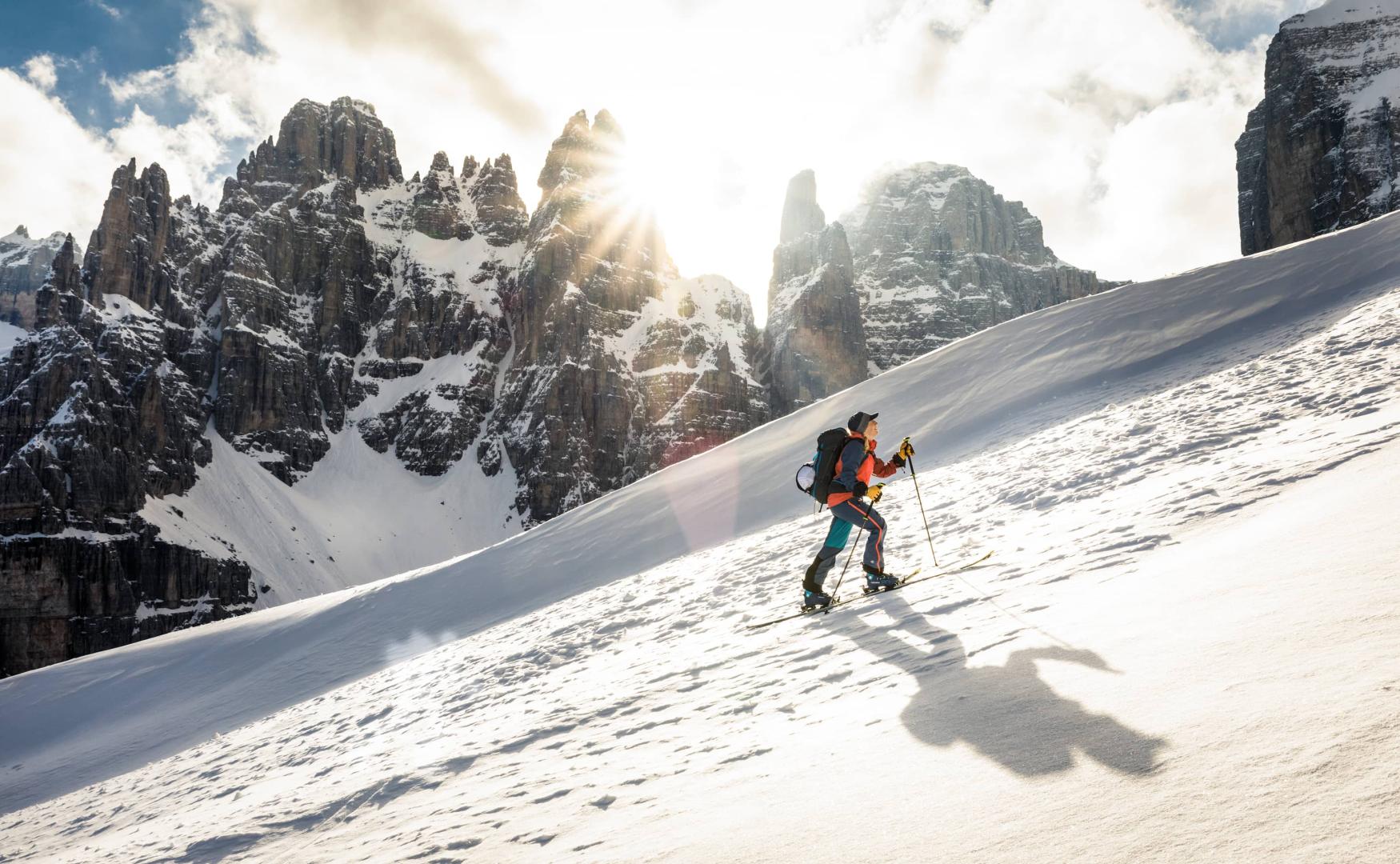 Planning a ski touring trip can be difficult, especially when bad weather smashed it. Kathi and Max Draeger have to find a new plan, so they drive to Northern Itlay near Brenta mountains to climb and ski Cima Tosa and the Canalone Neri. Let's follow their adventure !
_ Written by Max Draeger.
Where to go ?
Our plan to ski some interesting north faces in the Swiss Alps got smashed by the weather forecast, but as our camper was already packed up and we did not want to stay in Northern Tyrol as the conditions did not look too promising, we were searching for alternatives. We found an incredible one: The Brenta mountains in Italy. Stable weather for three days and a ski line, that I was looking upon for quite a while now, made the decision easy.

After a long drive we are in urgent need of pizza to fuel ourselves for the upcoming adventure. Late in the night we arrive in Madonna di Campiglio and must realize that the road to the Rifugio Vallesinella is still closed, which is basically not a problem, but adds another 40 minutes of hiking to the tour.
This looks awful !
Early in the morning, the alarm ends our short night and we start walking through the darkness. At the hut we are finally able to start skinning and make our way to the Rifugio Casinei at 1800 m, where we get to see the long west facing traverse to the Brentei hut for the very first time. We are not amused at all, as the snow will be very soft in the afternoon and the slopes are still loaded.
Moreover, finding the right track through the rocks seems to be anything but not easy and in the end we just realize that there might be a way easier ascent through the valley below. I still don't get why all descriptions propose to do this crazy traverse instead of just walking on the valley floor. We decide to adjust our plan for the following day and go for a second attempt.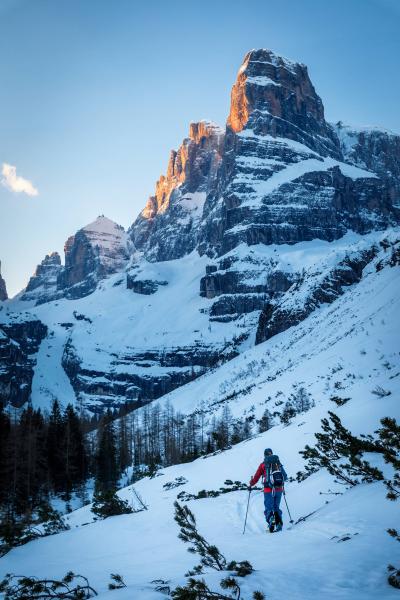 New route, new chances
We go to bed early and getting up is not a big deal: we are excited! A short breakfast and we set off. After one hour we reach a very steep section with some kind of a rock wall, but no reason to panic: The summer track is free of snow and we just hike up in running shoes.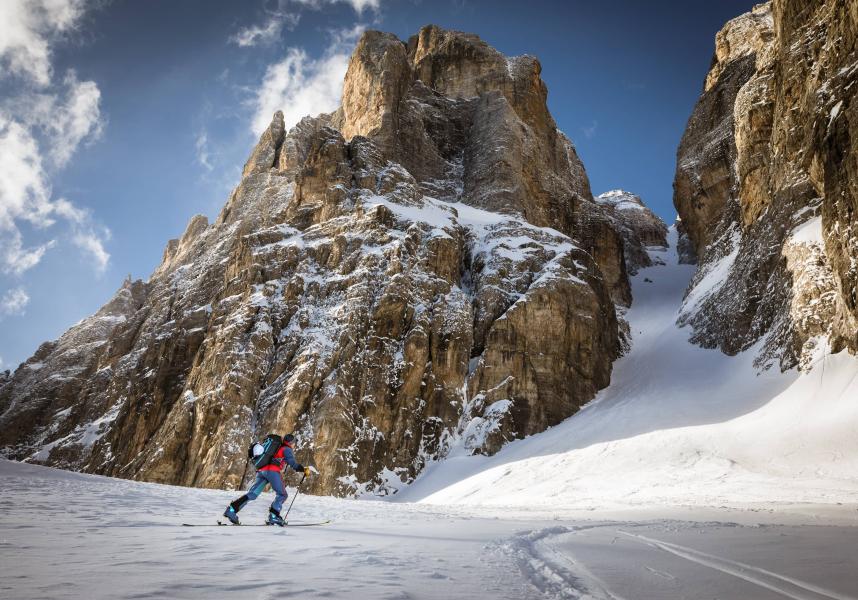 Afterwards the terrain flattens, and we can change the Salomons for ski boots and follow the skin track that leads us to a broad, 35° steep gully. We are driven by our curiosity for the Canalone Neri and cover ground rapidly. Then, we are finally able to see our objective – wow! This is amazing! The couloir is surrounded by 700-metre-high rock walls and looks gigantic. Three other alpinists, small as ants, who are already climbing up give scale to the scenery and outline the enormous distances: The slope is around 800 meters long and in average around 45°-50° steep. Absolutely incredible!

We are on fourth and fifth position in the couloir and there are about seven people following. To be honest I dislike being in such a steep terrain with a lot of other people as there are just a lot more hazards around. Falling rocks, sluff, etc... Today everybody pays attention, and we are all able to get up safely. Thank you guys!

Few meters into the gully we have to put our skis on the backpack and start climbing up by the use of crampons and ice axes. Step for step, meter for meter, we are gaining height. Luckily, we do not have to break trail in the deep and soft snow and can safe some energy for the demanding descent. Suddenly, after two hours of monotonous "step, ice axe, step, ice axe, step, ..." the terrain leans back and we reach the flat summit plateau.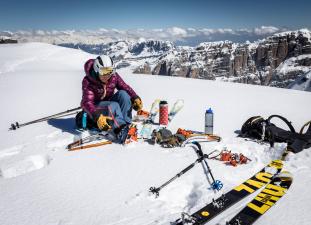 High Five !
Halfway done. We don't spend too much time enjoying the beautiful view over the Brenta region and quickly prepare ourselves for the skiing as the next team is already reaching the summit.
3, 2, 1, Drop in ! 
We doublecheck our bindings, buckle up the boots and after a short "Watch out and enjoy the ride" I go for the first turns. As usual I take it easy at the beginning and check how the snow feels on my skis.
This definitely is serious terrain and you don't want to lose control here. Even if there is no cliff in between or anything, a crash would probably end up 800 meters below at the exit. Today I feel comfortable and speed up until I reach a good safe spot to the skiers left. Then it's Kathi's turn and I am in charge of taking pictures of her skiing down the steepest section of the slope. A narrow section that seemed to be a bit more difficult during our ascent turns out to be relatively easy and then the slope opens up.
The snow is incredible here and there are still huge patterns of untracked powder snow, so I fully switch into freeride mode. I am picking up more speed and rapidly loose height chasing down the couloir in big turns. After the final section that is a bit harder and larded with chunks of ice and packed snow, we exit the Canalone Neri and ski into the sun. What an incredible ski adventure! Feeling fulfilled and happy we ski back to our running shoes and walk down the forestry road to our car.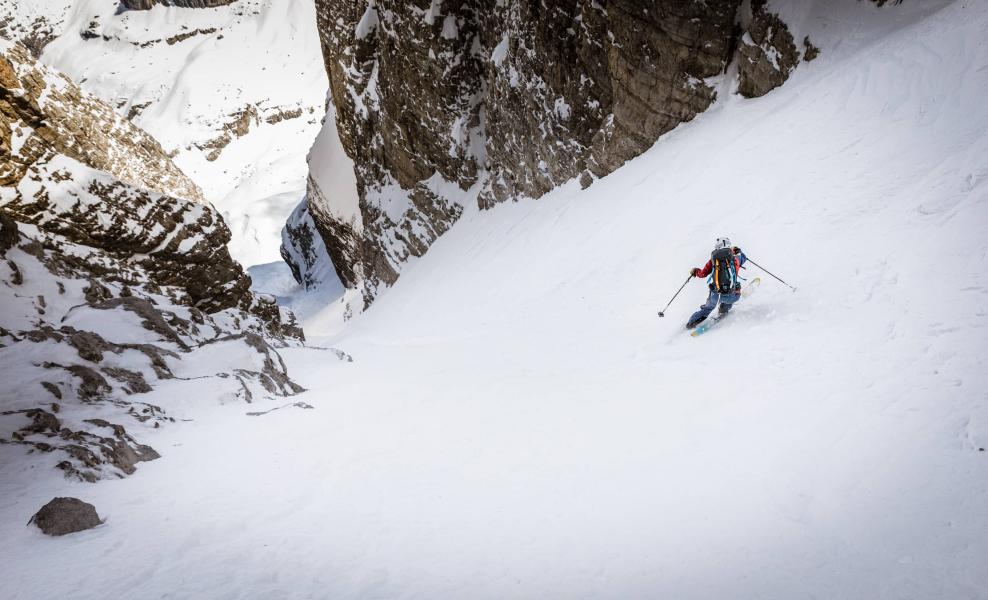 So, what is next? Let's go south, take some days off at a lake and ride the mountain bike! #springiscoming!
Portrait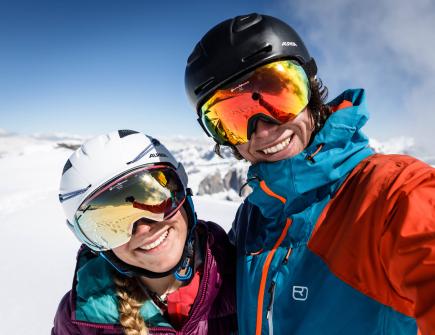 Kathi & Max Draeger
Professional mountain sports and adventure lifestyle photographer based in Tyrol, Austria, Max discovered his fascination for climbing and mountaineering early on. He is part of the ZAG team since 2018, offering his reliability in extreme environments, his creative mindset and his sense for telling stories about mountains, and skiing.