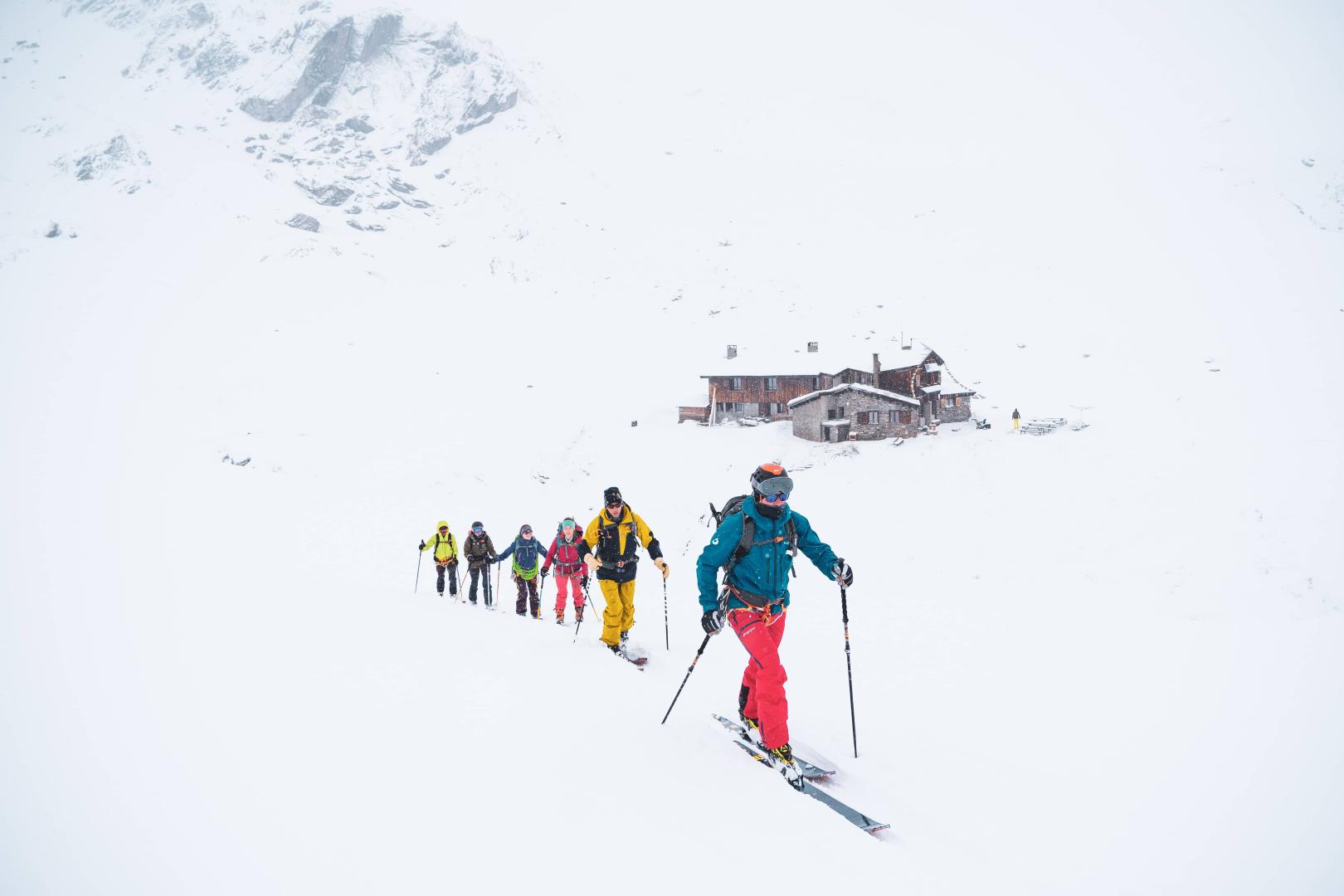 As soon as you start ski touring, sealskins are the essentials accessories for our ADRET and UBAC ranges. Those are the ones that will allow you, by sticking to your soles, to grip the snow on the way up with an anti-retraction effect and thus access those coveted virgin slopes. But finding the perfect pair of skins is not that easy, they need to be the right size for your skis, with the good width and type of attachment to the sole.
There are as many skins as there are ski touring practices, which is why we are going to try to enlighten you as much as possible on the subject through this article
 What are sealskins in practice ?
Seal skins are what allow you to go up in the snow with skis on your feet without sliding backwards, nowadays they do not come from our dear friends the seals, but until the beginning of the 1980's it is well their skin which was used to go under the ski, in particular because of the short hair of the beast directed in only one direction allowing a good catch in rise and a good glide. For the protection of the species only the name sealskin has remained and the technology has evolved.  The sealskin is the essential of the hiker, with glue or without glue, synthetic or mixed, it exists for all types of skiers.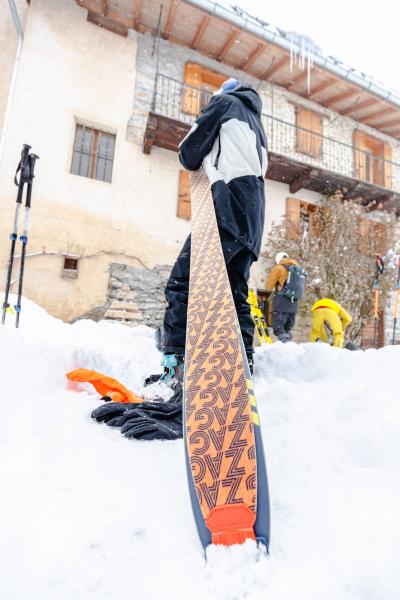 Several type of fibers
 Mohair skins
100% goat's wool to roam like ibexes in the mountains, these skins have an exceptional gliding quality, the advantage is to limit friction when climbing thanks to their large sole surfaces in contact with the snow. They are much more efficient than other skins, effective on climbs and long flats, as well as on plateaus and forest tracks.  On the other hand, they are less durable than their synthetic namesake, making maintenance more fastidious. It is therefore necessary to maintain them regularly to combat this phenomenon and maintain optimal performance. The latter also have a tendency to "kick" (accumulate snow underneath) which reduces their effectiveness. Mohair skins, with their incomparable glide, are still an excellent choice for experienced hikers and especially for mountaineering.
Synthetic skins
100% synthetic nylon skins are very resistant, thus offering a good durability. Due to the hydrophobic property of nylon, these skins do not "kick" unlike 100% mohair and have excellent grip on very cold and hard snow. Despite its qualities in climbing, the nylon skin can be qualified as a real "doormat" since the glide is almost non-existent which can make long climbs complicated... Less expensive, they are still recommended for use in specific conditions such as in the Far North, Alaska or when the Celsius displays temperatures to make your nose freeze.
Mixt skins
The one that is mostly found on the market is simply a mixture of mohair and synthetic (nylon). This mix represents the perfect balance between glide and grip as it combines the advantages and disadvantages of each material in a moderate and adaptable way.
Indeed, most often we find a proportion of 70% wool and 30% synthetic but this density of mixture can vary according to the brands offering skins with more glide (high proportion of mohair) or with more grip (more nylon) while keeping the advantages of each.  Mixed sealskins are therefore the ideal compromise for enjoying good glide, optimal anti-rebound effect and the longest possible life.
How to glue the skins ?
Skins with glue
These are the most traditional skins that have already proven their worth in the ski touring world. It is simply the hairless side of the skin that is coated with cold resistant glue to adhere to the sole of your ski. Easy to use, they do not damage the sole. And when it doesn't stick anymore, ... no need to panic because you just have to re-glue them and they're like new, no need to change them anytime soon! If you want to re-glue your skis in the comfort of your own home, take a look at the POMOCA tutorials on YouTube.
Self-adhesive skins 
A real revolution for ski touring, skins that stick without glue! This system works on the principle of molecular suction cup, with an adhesive material based on silicone or a derivative. So, in concrete terms, this system does not contain any glue as such and therefore does not require re-gluing.
You just need to clean them with clear water to remove any dirt and glue them perfectly. To store them nothing could be simpler, no need for a net as they can be folded on themselves and put directly into the backpack.  Note that these are more expensive than their traditional glue friend, but they are attracting more and more people for their practicality and ease of use.
How to put your skins on ?
Glue and stickers are good, but for your skins to stay in place throughout your ascent, they are not enough... Most skins have a metal or plastic stirrup system that hooks onto the tip of the ski to prevent the skin from slipping off. This binding system with a stirrup on the tip can be completed with a heel tensioner that will fit perfectly with your pair of UBACs. For more specific uses such as competition, there are skins with inserts. To avoid losing a second even when removing the skin from your Adret 78 or ADRET 85, there are bindings with quick release clamps in the tip of the ski, which are easy to remove thanks to the clamp placed in the notch at the front of the tip.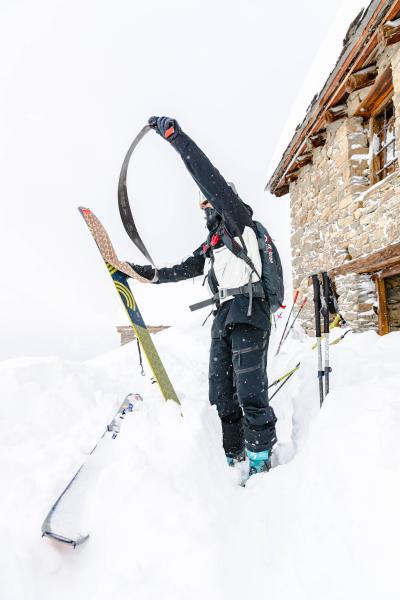 Discover POMOCA : the skins pro
For more than 80 years, the brand POMOCA has been constantly innovating in terms of evolutionary technology, and has become the undisputed world specialist in self-adhesive skins. The brand offers a range of high-quality skins adapted to each practice and each type of snow to give you the best possible performance. In addition, the brand offers a large number of accessories to take care of your skins; this allows you to be autonomous when it comes to maintenance, thanks in particular to the video tutorials offered.
We chose to work with POMOCA because of the great durability and performance of their products: they are soft skins that "stick" perfectly to the skis of our ADRET and UBAC touring ranges.
Moreover, we are sensitive to the values and commitments of the brand towards the environment with, for example, the recycling and use of skin scraps to make belts or boot soles. Also note that since 2020 the brand has completely stopped using fluorinated compounds.
Driven by passion and the desire to give you the best possible experience in the mountains, POMOCA works for skiers seeking sensation, performance and safety by meeting their needs directly from their headquarters in Switzerland, above Lausanne.  A true pioneer in ski touring, they were among the first to develop "non-slip" skins and then self-adhesive skins, as well as numerous mountain accessories. POMOCA is skins for ski mountaineers with their faithful ADRET 78s under their feet who only dream of D+ (minimum 1200m), skins for hikers who go everywhere in all conditions on their UBAC 95 or skins for the frosty freeriders, hungry for ever more committed slopes accompanied by their faithful BAKAN.