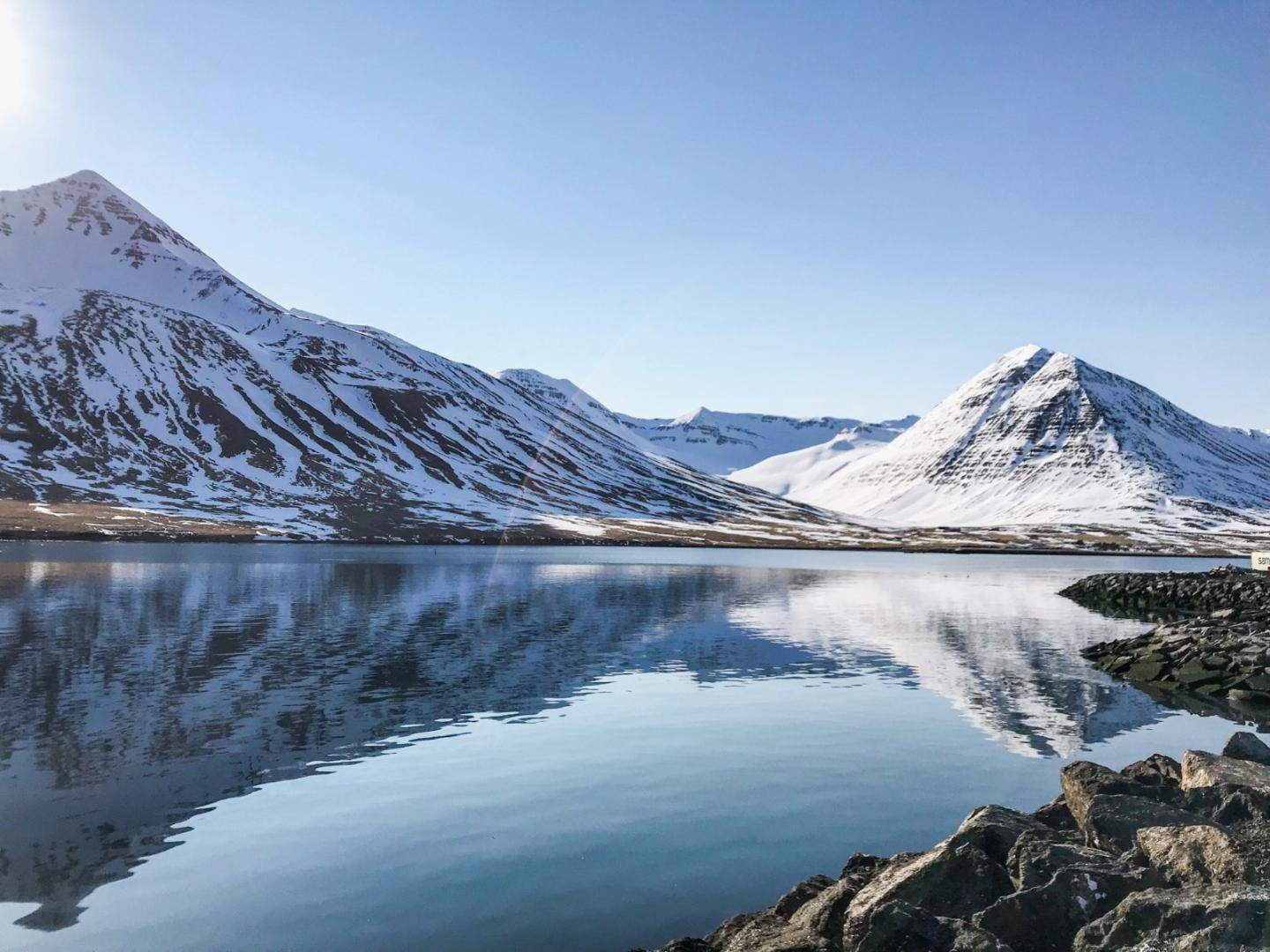 Back in Iceland
Iceland is a country that we very much appreciate, whether it's due to the landscapes and the strength of the natural elements or to the very warm welcome from the Icelanders. After a first trip / shooting in Akureyri in 2018 we decided to fly back there with our Adrets 85 ! Here's our story :
First stop in Siglufjordur: meeting Icelandic freeriders!
For this trip to Iceland, two goals ruled our adventure. The first one was to project our documentary "Women's Skimo Project opus Islande" in Iceland, with the actors, during the first free ride contest organized in Iceland. The second one was to explore the slopes we only had time to look at the year before when filming our documentary but on which we couldn't ski due to the movie's timing.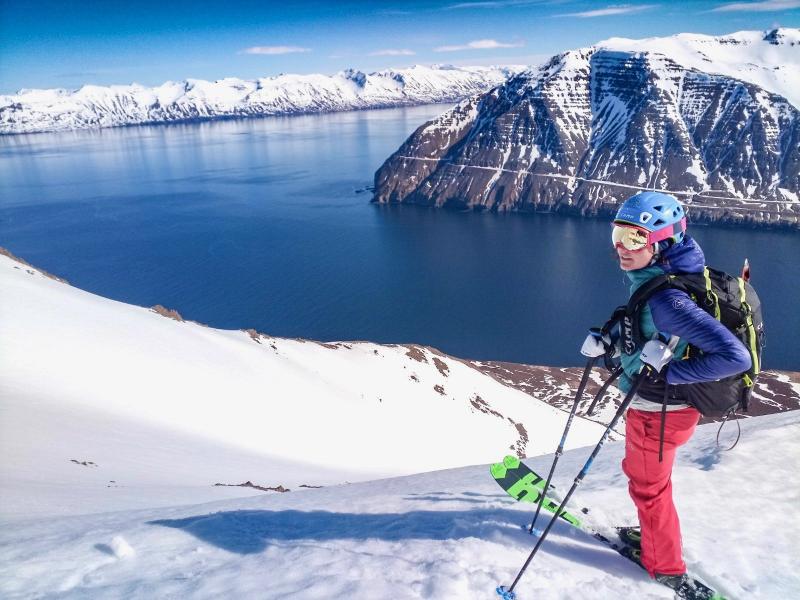 After 3.30 hours in a plane and 6.30 hours in a car reaching maximum 90km/h here we are in Siglufjordur, North of the trolls peninsula. Siglo is located along a small fjord which we access through several small tunnels. It's the perfect occasion to test your distances judgment to know if you must step aside or not. The challenge being to get through the whole tunnel adjusting speed without stopping: sometimes you have to find ways to have fun !
Once arrived we met with Bryndis' boyfriend (Bryndis is the movie's main actress) : Magnus. He is the manager of this "Freeride World Tour" qualifier contest. As soon as we arrive he asks if we have taken our ice axes and crampons : we answer that of course, we always have them in our bag just in case we need to go to steep slopes. Without thinking twice here we are, named "the technical team" in charge of installing the ropes on the edges. But also named "ski-dude", in charge of riders who might fall or lose material along the mountain's face. What a program !
There, we were as active as members of the Siglofreeride Week-end organization's team !!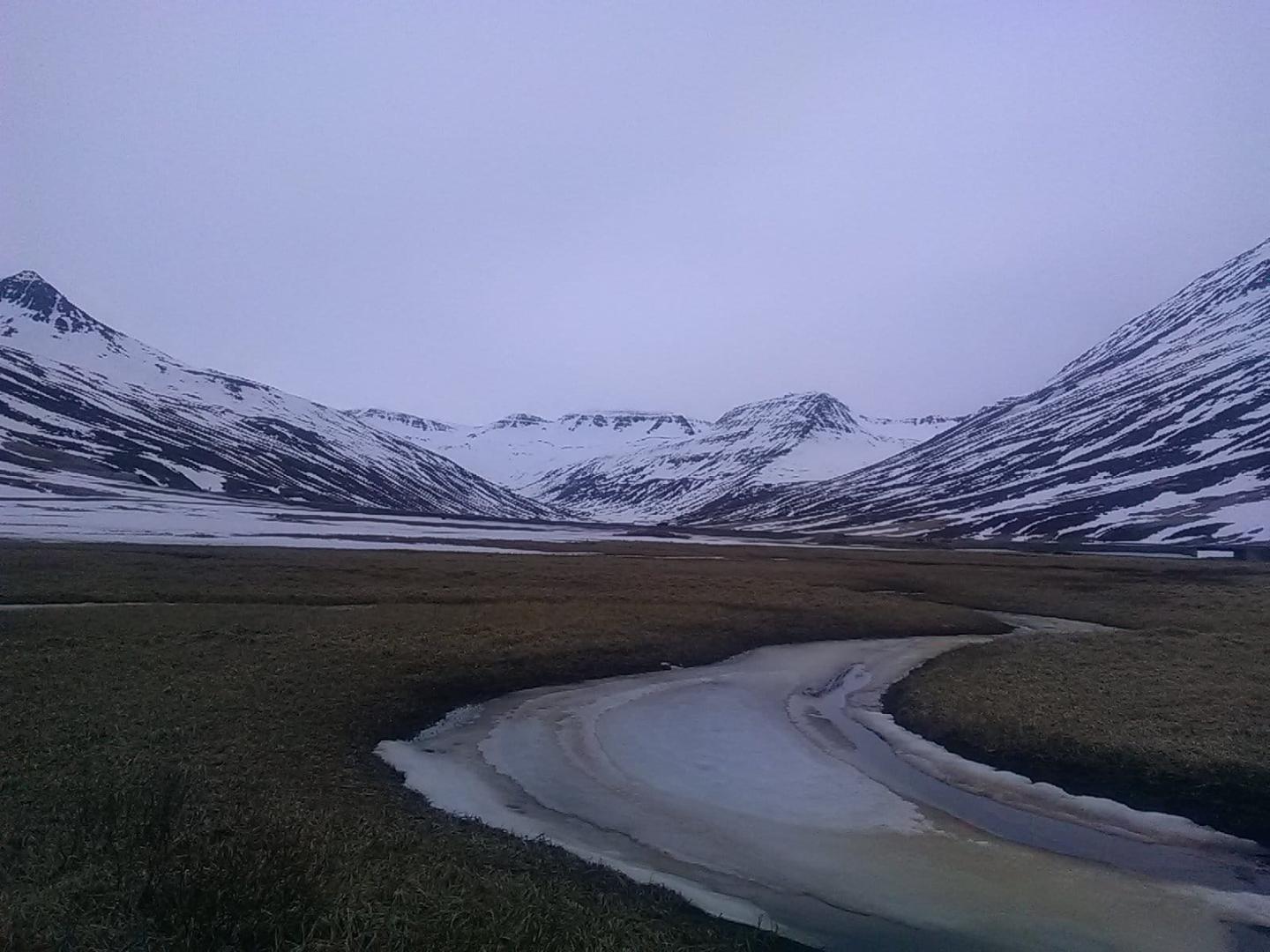 It is true that our Adrets 85 are not made for freeride competitions (we leave that to Wadeck Gorak with pleasure) but they happened to be very easy-going in the steep slopes, across the various rocky bars we had to jump which impressed the Icelanders.
The whole Icelandic ski and snowboard community had gathered in the small resort overlooking the fjord, in a friendly and typically stress free Icelandic atmosphere. After hanging a few ropes and ridding several times the qualification's and finale's faces, we took the small ski lifts to explore the mountains around finding many other, more or less steep slopes.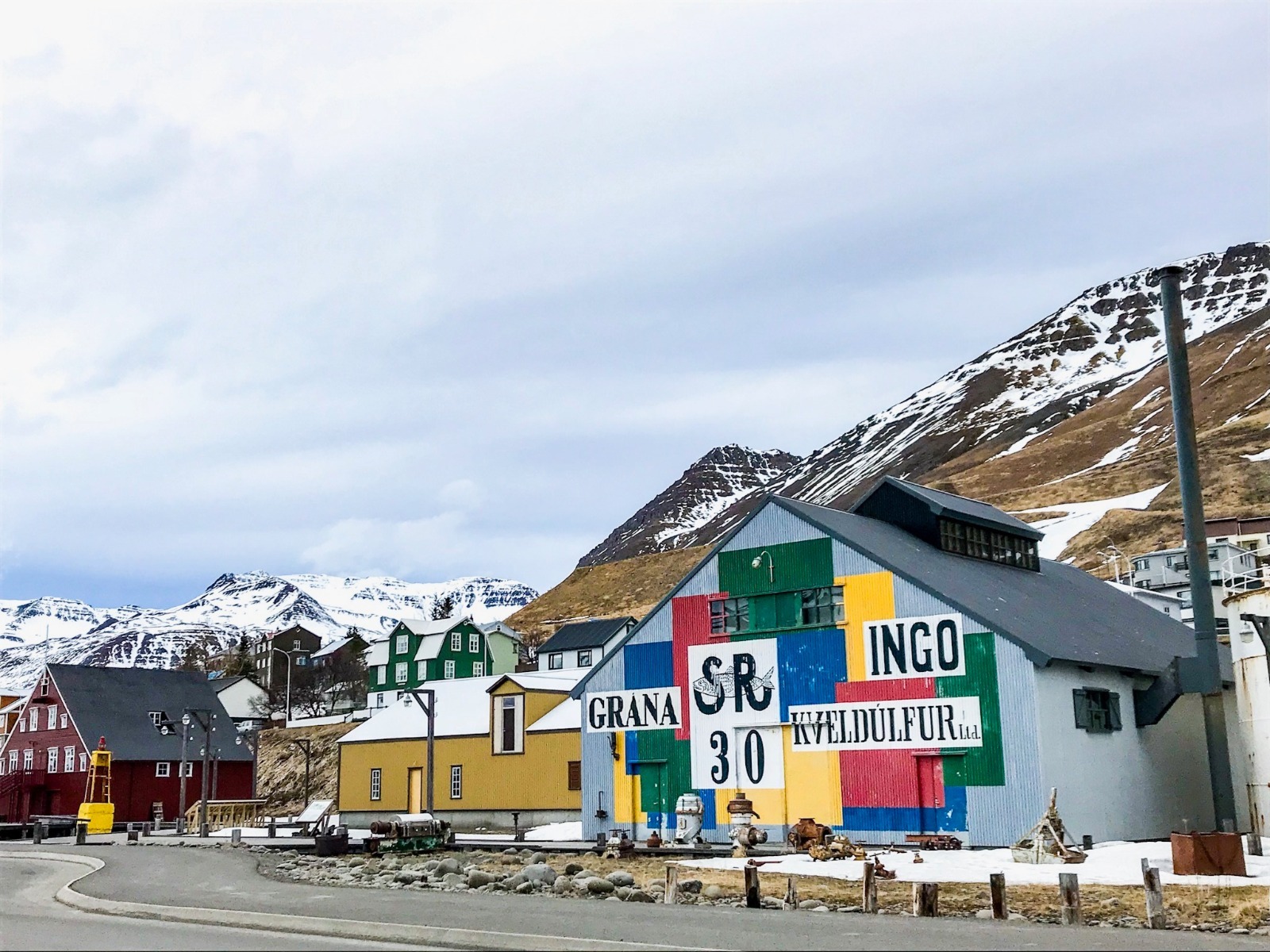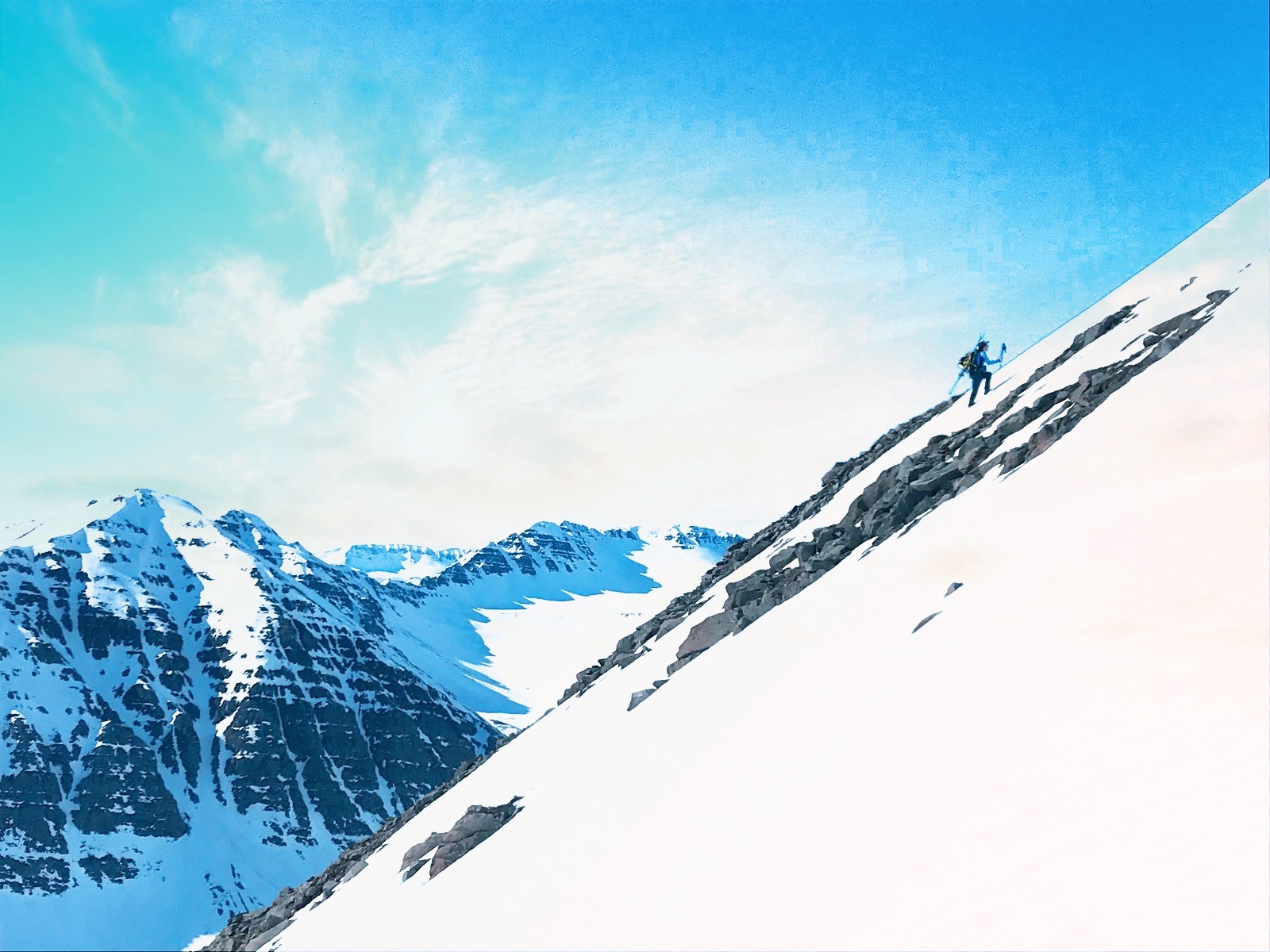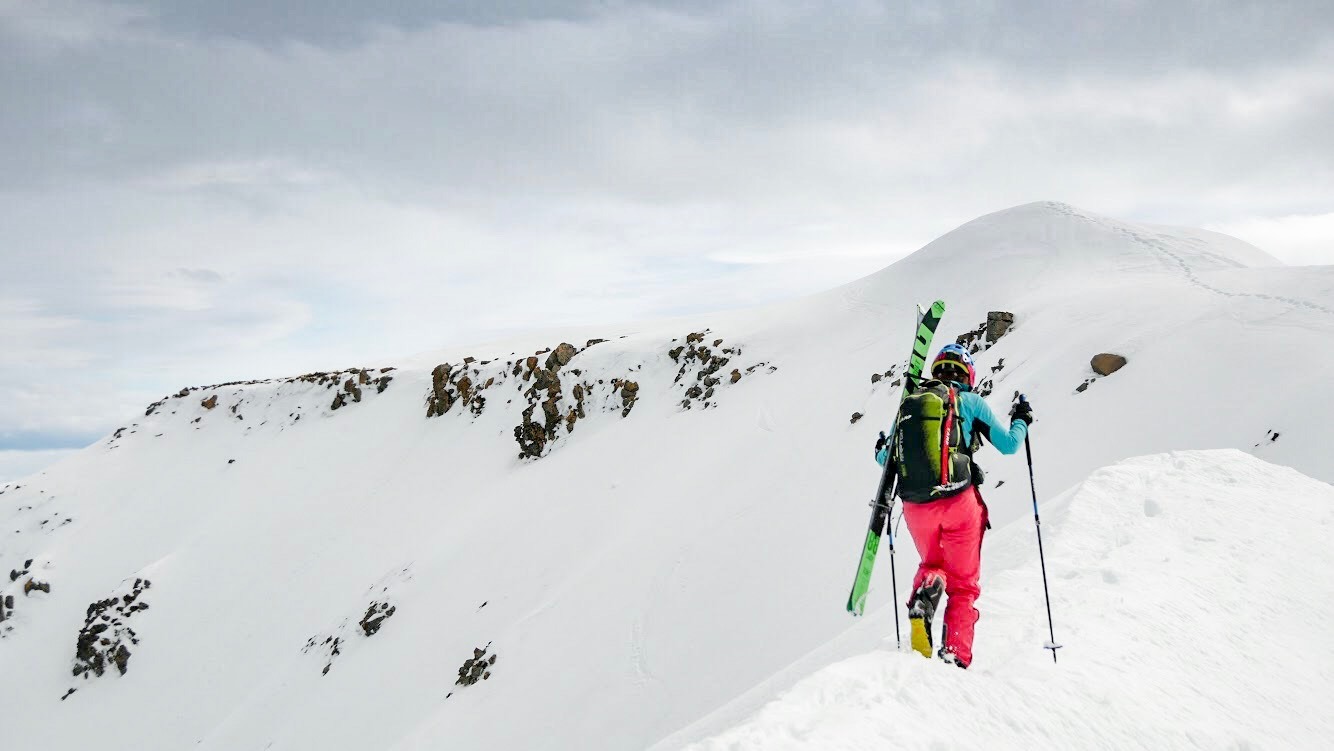 The ski resorts here are nothing like the French ones. 4 ski lifts and there you go one of the biggest ski resort in Iceland ! Moreover, funny fact : ski lifts never reach mountain tops nor go to the steepest slopes. That offers a wide free space for ski touring addicts. After the contest we went to the Sigol Hotel to show our movie "Women's Skimo Project opus Islande" with the whole cast in the room. What seemed to be a risky gamble in a freeride competition was indeed very appreciated by the whole community. A concert with two very famous hip-hop bands followed : Ulfr-Ulfr and Joipe X KOLI. The hip-hop scene is very developed in Iceland and the atmosphere was amazing. However, we must admit that regarding the lyrics, we didn't understand anything !
Waking-up wasn't easy the next morning but the second part of our trip was waiting for us…
Two friends, Ludo and Romain joined us in Iceland. Our goals were to ski the mountains above the sea and also to keep some time to explore further away in order to find more interesting slopes.
Our basecamp was not far from Dalvik, along the big fjord leading to Akureyri. From there we were able to get to the fjords of Olasfjordur, Hedeinsfjordur and Siglofjodur.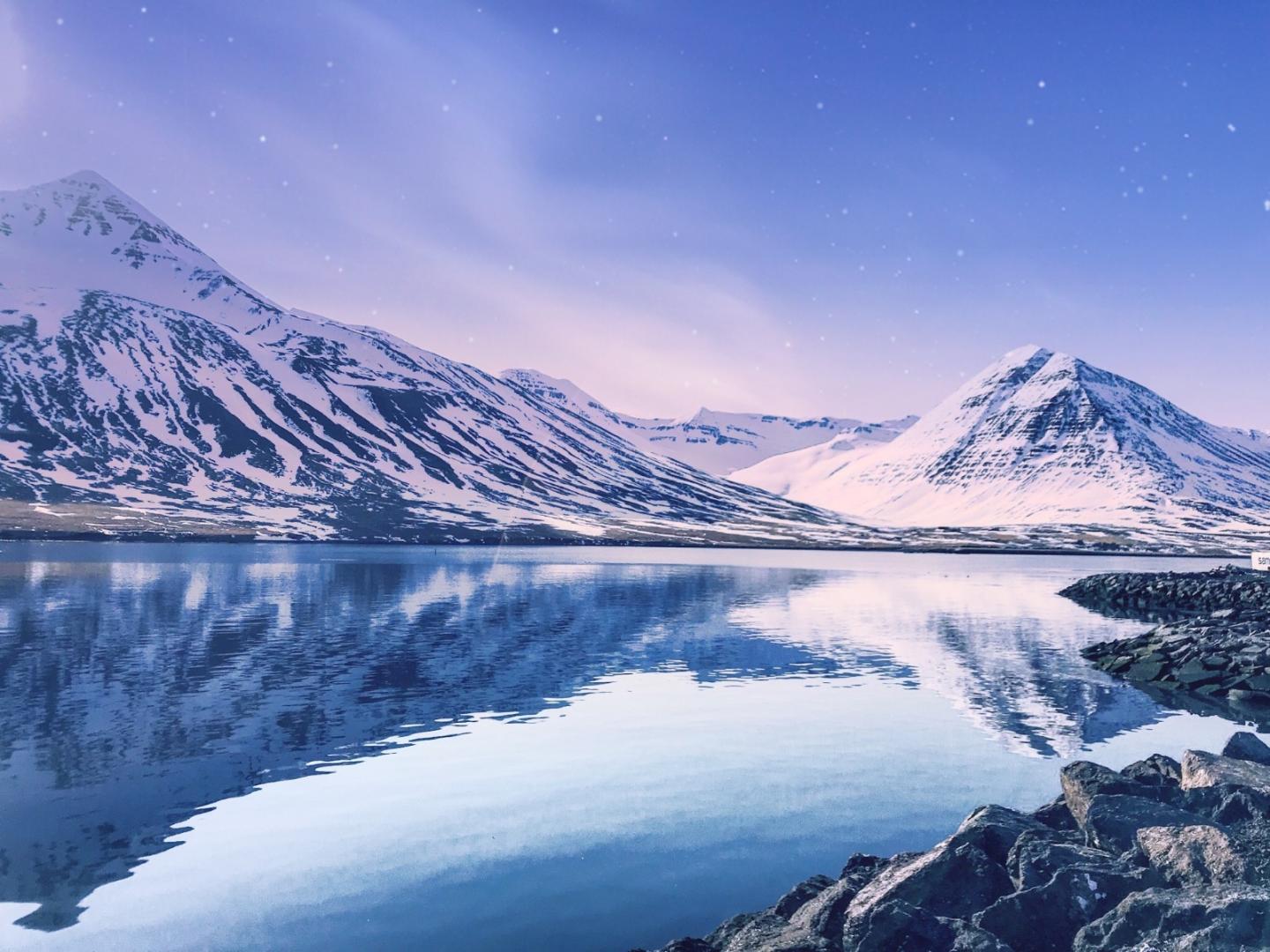 Each day we went to two different mountaintops, and climbed approximately 1500m to 1700m height difference. The weather was fine, enough light and warmth and good snow. All the elements were there to ski fast on these virgin slopes and to enjoy the steep slopes.
We had to find the right timing to reach some summits because groups were being dropped there by helicopter. What a pity to climb for two hours to arrive at the top at the same time as a group of 10 persons jumping from a helicopter. We have noticed that they usually went to wide gentle slopes. So we needed to find the steepest ones to leave our marks.
Diamond Face: the most beautiful itinerary of the trip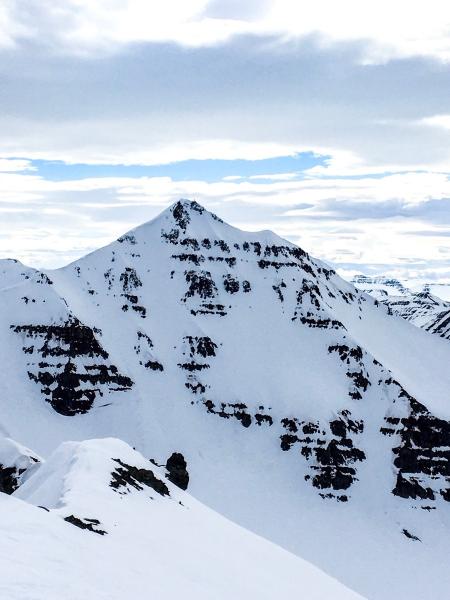 If we were asked to remember only one itinerary it would surely be the Diamond Face : steep face, 1000m high above the fjord. Getting there from Olasfjordur was quite long and seemed to be a never-ending climb. After 1.30 hour of semi-flat we started climbing the face from its Northwest side, at first with our skis on but then we put them on our backpacks. Some rocks slowed us down but we easily reached the top of this beautiful face. We went down through the North face and the snow was a bit more frozen than during the previous days. The first curves were in between rocks, on 45/50° slopes, then it offered us wide 'couloirs' (approximately 40°). The Adrets 88 were great there, light to carry on the way up, whether you keep them on your feet or on your backpack and were safe and pleasant on the way down.
Finally, we managed to ski 9 days out of the 10 we've spent in Iceland under a beautiful sun, with excellent snow. We've met the Icelandic ski community, a small and very welcoming close-knit group. We appreciate their very cool way of life, living according to the weather conditions. We were also amazed by the wild landscapes we've discovered there whether when skiing on the mountains or fishing by the fjords.
More about that trip here
_______________________________________
Tanya Naville
Léo Wattebled

Réalisateurs de films documentaires ayant pour sujet les sports de montagne et la mixité dans le sport. Blogueur « On n'est pas que des collants »
Iceland is a country that we very much appreciate, whether it's due to the landscapes and the strength of the natural elements or to the very warm welcome from the Icelanders. After a first trip / shooting in Akureyri in 2018 we decided to fly back there with our Adrets 85 ! Here's our story :