How to choose the size of your freeride and all mountain skis
Home

/

What size to choose for your alpin skis

How to choose the size of your Freeride and All Mountain skis?
If you're wondering what size freeride ski to get, you've come to the right place! This size guide is an indication of the characteristics of our models. The size to choose can obviously vary according to your desires, your level and your type of skiing.
This guide is organized in 2 steps:
Consult the table below
Don't forget to read the pro tip to make your final choice
You'll see, it's very easy to apply !
What is your height : ex 173 cm
Define your level : ex Advanced
Choose your preferred ski range and model: ex HARFANG 96
Find the box in the table that corresponds to you
Calculate :
[Your height] + [Level] = length of the proposed model
173 + [-2cm, +8cm] = [171, 181] cm
Two sizes could correspond to you: 170cm and 176cm
Refer to the pro's advice to make your choice
Size Tables
LINE

MODEL
LEVEL
Intermermediate
Advanced
Expert
HARFANG

86

(155, 162, 170, 177, 184 cm)

-8
-3
-5
0
-3
5

96

(156, 164, 170, 176, 182 188 cm)

-5
-2
-4
5
-2
8

106

(178, 186, 192 cm)

-5
0
0
7
0
10

116

(186, 192 cm)

-5
0
0
7
0
10
SLAP

104

(164, 170, 176, 182, 188 cm)

-5
2
-3
5
0
10

112

(170, 176, 182, 188 cm)

-5
2
0
5
0
10

122

(180, 186, 193 cm)

-5
2
0
5
-3
5
These indications are only theoretical, often all is not played with a few centimeters. Please refer to the advice of the pro below if you hesitate between two sizes.
THE PRO'SADVICE: CHOOSING THE RIGHT SIZE FOR FREERIDE AND ALL MOUNTAIN SKIS
1 - HARFANG RANGE: ALL MOUNTAIN SKIS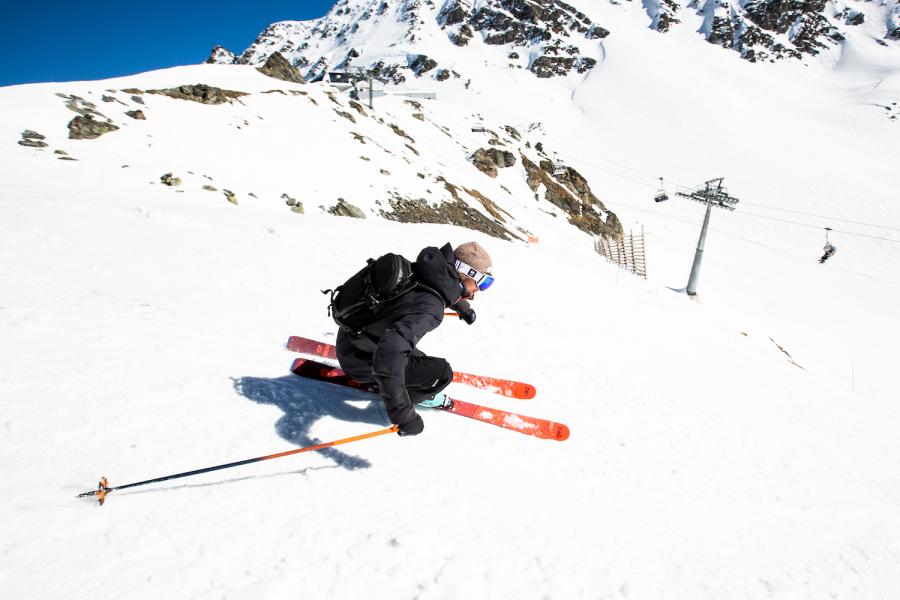 For skiers who like all mountain (HARFANG 86 / HARFANG 96 / Slap 104), we recommend skis around your size. For a more groomer oriented program (HARFANG 86) it is possible to take a slightly smaller ski. For a off-piste program, if you are looking for stability at high speeds, you can choose a ski that is about your size or slightly longer. If you are looking for a maneuverable ski, a ski in your size will be sufficient. The HARFANG line is made up of flat tail skis offering unique gliding sensations on and off the slopes! This range is for all those who are looking for a versatile ski with no limits!
The most on-slope oriented ski in our range, with features that make it necessary to choose a smaller ski if the table shows two possibilities.
The all mountain ski of the range. If you're hesitating between two sizes, choose the longer one if you plan to use it mostly off-slope, the smaller one if you spend more time on-slope.
A freeride ski to go fast in all types of snow. If you have to choose between two sizes and you have the technical background, take the larger one. 
2 - SLAP RANGE: FREERIDE SKIS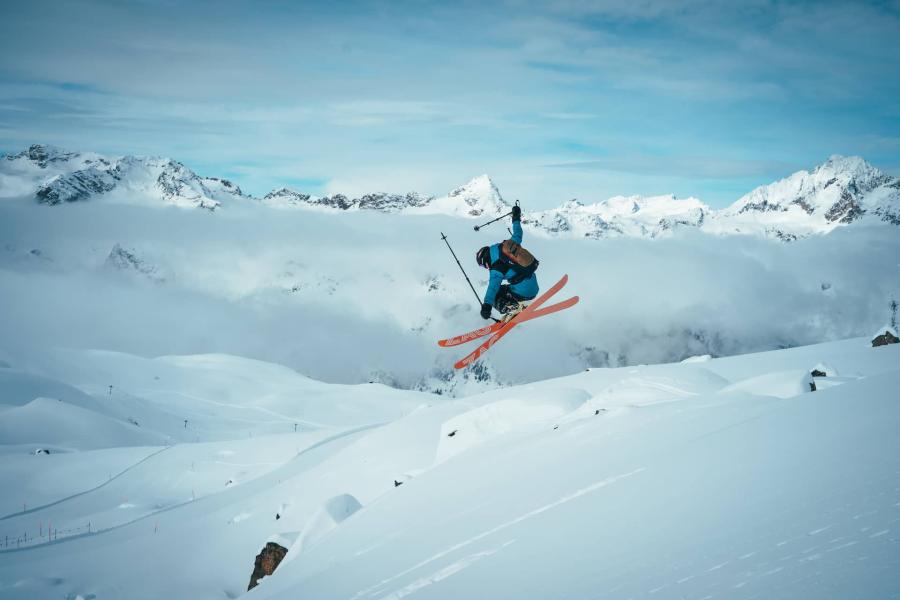 For freeriders (Slap range / HARFANG 106) it will be necessary to choose a ski approximately at your size (longer if you are looking for stability / at your size if you are looking for maneuverability). Warning: the SLAP range is composed of twin tip skis and with pronounced double-rockers, we advise against choosing a ski below your size for advanced and expert levels. These wide and playful skis are made for all freeriders looking for untrack powder fields. This SLAP range is also a great way to have fun on the slopes!
The most versatile model in the SLAP line, if you have to choose between two sizes take the smaller size for maneuverability or the longer size for high speed stability.
100% Freeride oriented, if you are hesitating between two lengths choose the longer one.
SLAP 122
This is a big condition ski where it can be interesting to define if you are mainly skiing in big wide area or forest. So if you have to choose between two sizes, choose the smaller size for forest and the longer on for the wide powder fields. 
The size of a ski has to be chosen according to your size, your level, your ambitions and your practice.
A double-rocker ski (SLAP range) will always be more pivotable than a flat heel ski (HARFANG range).
The longer the ski is, the more stable it is at high speed. It will also perform better in deep snow but will be more difficult to handle (this requires a good technical and physical background).The smaller is the ski, the more maneuverable and easier it will be, but it will not be super stable at high speeds and the balance will be more precarious in deep snow.
For the LADYs, please note that what differs between a men's and a women's model of the same size is only the design: top-sheet (graphic coating) of the ski. The shape and construction are the same. If a model doesn't exist in your size in LADY, you can choose a male model, or the contrary.