How to choose your skis?
Choosing a pair of skis is quite an experience. whether you're looking for a specific model or you just want to explore a maximum of possibilities, it's handy to  first of all know all the criteria that will enable you to decide and make the right choice. It is not always easy to find your way around, especially when you don't know exactly where or what to look for. The key is to ask yourself the right questions, to find the right answers…
So, here are some questions:
Are you looking for groomed piste skis, freeride skis or both?
Do you consider yourself a beginner, intermediate or advanced skier?
Are you looking for versatile go anywhere skis or advanced and specific equipment?
Do you prefer small turns or big carving turns at Mach 12?
This isn't a personality test, it's just that there is so many things out there and the goal is to, at the end, make the right or best choice depending upon your specific criteria.
For those who like to ski gently and those who are just starting out
You are a novice and you want to look at least somewhat competent while doing those basic turns. Freeride is not your cup of tea, which is not actually a bad thing, because if you move away too far from the groomed runs, how can you drink that little mulled wine chilling at the altitude restaurant?
Anyway, your priority is not the big ride, but to enjoy yourself on the slopes with some skis that are easy and fun to ski. Choose a ski that is not too wide or "Fat", let's say between 80 and 90mm, an all-mountain shape with a flat tail (no twin tips here) narrower than the tip and a good torsion resistance. What you need is a ski that's comfortable in different conditions and with enough juice to fully feel the sliding sensations provided by small and medium turns on groomed slopes.
For this, opt for a ski with a small turn radius (about 17m) and with a nice grip on harder snow to evolve safely on the marked slopes and that occasional foray "off-piste" if the conditions are favorable. To give you an idea, you can take a look at our Harfang-86 and Harfang-86 lady.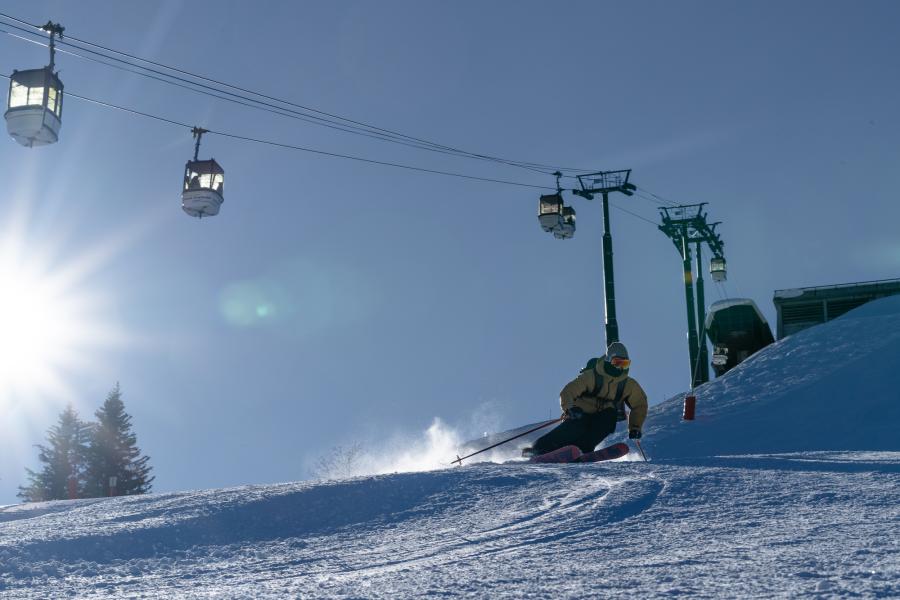 For ski addicts and experienced riders
You are a member of a freeride crew craving fresh powder, you never leave your apartment without your "DVA", probe and shovel and you've destroyed your last pair of skis landing that last cliff jump? It's not that difficult really, do some sophrology to compensate the lack of adrenaline that you feel when you don't have your skis on, and run to buy some new planks with a 110mm width minimum:  Fat is your friend here. You need a ski that allows you to go full throttle into those big freeride lines whatever the conditions, an insubmersible ski in the deepest powder and extra stable on that chewed up or wind-blown snow, while staying maneuverable enough and reactive in those trees on the ski out.
Even if you are not planning to mount ski touring bindings on your skis, you could consider the possibilities that offer hybrid bindings, to go a little higher, a little further, to see if the snow is fresher and deeper just over that horizon. In this case, lighter freeride skis could be a good idea.  You can see if our SLAP 112 tempts you, it will most definitely be just what you're looking for.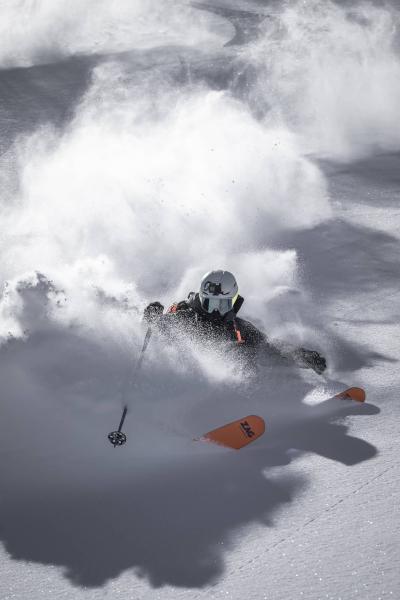 Well, we talked about just 2 profiles of skiers at either end of the scale, but there is still a plethora of skiers in-between. We know that there is an ideal ski for each and every skier. So, if you don't recognize yourself in the caricatures described above, don't panic it's totally normal. Just remember in order to choose the right pair of skis, you need to be totally honest with yourself and know what kind of skier you are today and also would like to be tomorrow.
To get started, choose a ski that you feel safe with, that you can also evolve with on the piste and in freeride, you should look for intuitive and easy skis to accompany you during your evolution and give you that exceptional sliding sensation every step of the way.
To push your limits, don't hesitate to choose a ski slightly taller than yourself to go faster, to make those bigger carved turns and gain in commitment. And to touch a bit of everything all over that mountain, a relatively large ski (between 90 and 100mm width is ideal) with an alpine soul would be great, as much to carve on groomed snow or for the craziest freeride runs of the year. Regarding the size of your skis, it is recommended to choose skis that are approximately your size, but don't forget the advantages of a taller or shorter ski. Shorter skis are easier to manipulate and maneuver than longer ones that will allow you to go faster. Choose also according to your objectives. We've concocted for you a size guide  to help you with your choice.
How to choose your bindings?
Once the skis have been chosen, phew! you're happy, everything is great … Now the bindings….
Ah! Not an easy task. We've briefly mentioned hybrid bindings before, but be careful not to confuse with alpines bindings. Let us explain to you the difference between these 2:
Alpines bindings are the ones we all know, screwed to the skis, they can't be moved.
They are adjustable in length to match the size of your ski boots and they are equipped with a security system standardized DIN, TÜV, ISO or EN. The TÜV label (Technischer Überwachungs Verein, or association for technical control) is a guarantee of seriousness and German quality in the same way  as the DIN standards, corresponding to the standards of the German institute of standardization (Deutsches Institut für Normung = DIN), that have served as the basis for the development of the standards in Europe (European Norm = EN) and internationally (International Standardization Organization=ISO). These standards are intended to harmonize the quality and the safety of the products according to the technical rules. All the alpine bindings manufacturers strictly apply the ISO standards, the certification level with the highest security. In general, we base ourselves on the weight and the level of the skier to adjust this system. You can refer to the following chart to determine the ideal setting for your alpine ski bindings.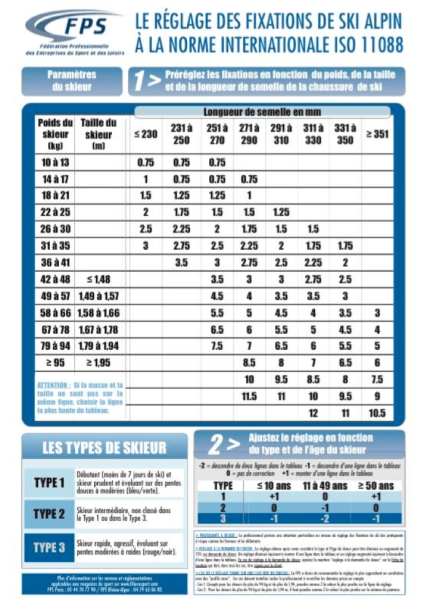 Hybrid bindings allow you to climb a good few hundred meters with skins, thanks to their convertible heel for hiking. This system is heavier than the classic hiking bindings, but they remain relatively light and it guarantees a safety level almost equivalent to alpine bindings.
Here we find all the advantages of the alpine binding with a solid mechanic standardized TÜV, DIN or ISO and the caracteristics of ski touring bindings with a hike position and a reduced weight. An interesting solution for freerando enthusiasts and for the die-hards who like to go off-piste skiing and aren't afraid to put the skins under their skis and put in the effort to go beyond the marked slopes. Hybrid bindings are perfect to send hard while being safe in that distant line you've spotted from the lift.
For example, Marker Duke hybrid binding or Salomon Shift, with their look closer to alpine bindings than touring are excellent candidates.