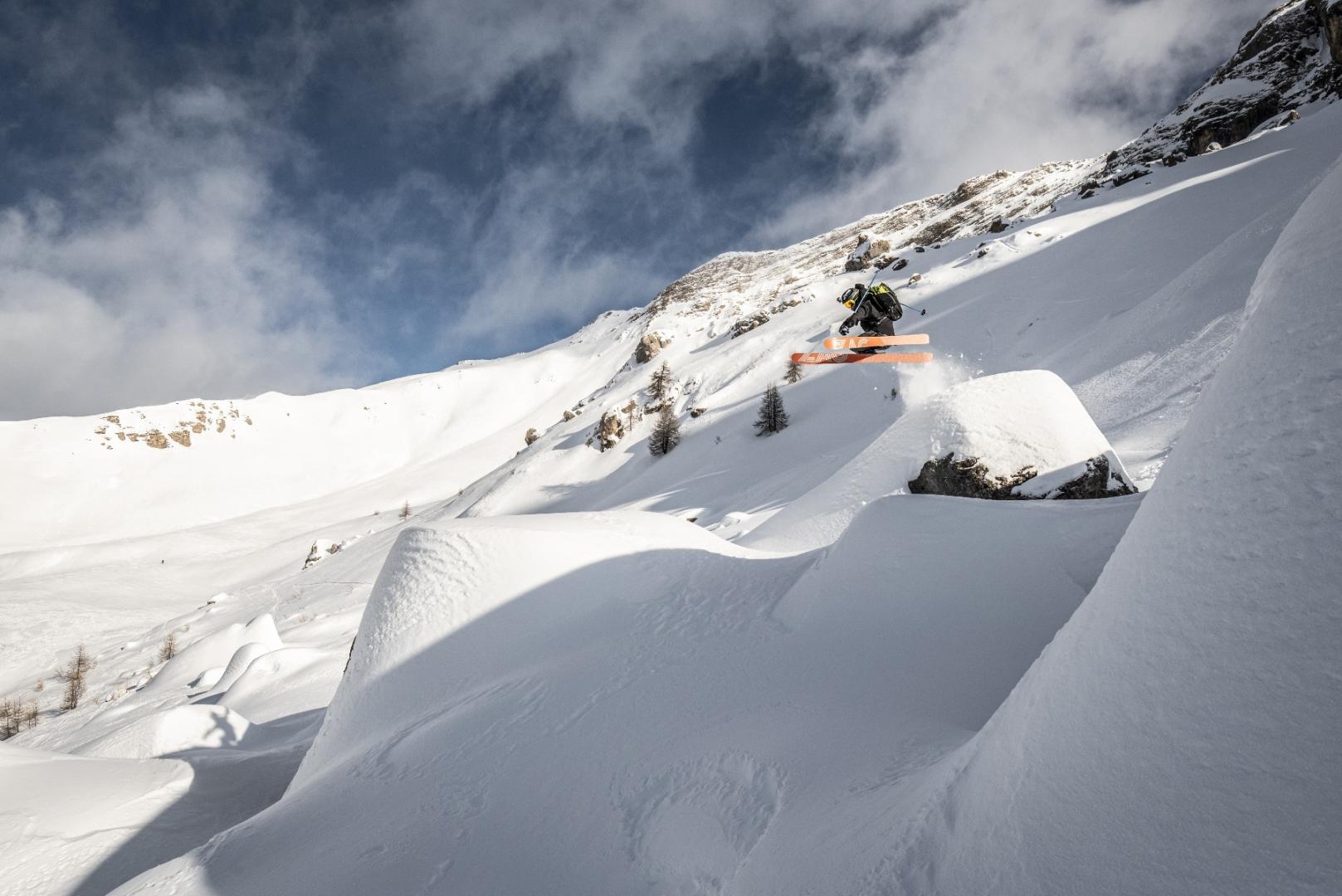 « Style Libre Arrière Pays » is the literal translation into French of « Freestyle Back Country » ! The SLAP range offers wide and playful skis, designed for freeriders skiing strongly in powder ! Easy to handle, these skis will take  you everywhere and let  you master all types of snow, even on slopes with a hold that will surprise more than one !
It is Important to note as well, our skis are made with a core in light poplar Paulownia : Assembled with hybrid bindings like Salomon Shift or Fritshi Tecton 12, the skis are light enough for touring. With the SLAP, you can reach every slope, either on piste or in the backcountry ! 
For this new season, we have been rethinking the SLAP range. Thanks to the  input collected from our riders, the R&D team was able to upgrade the range. It is aimed for limitless off-piste skiers who are looking for high performance and playful sensation skis on all types of terrain. Skis, often put to the test, must offer optimal comfort in all circumstances; whether in a large forest or in a mogul field.
SLAP 104: The Versastile Freeride Ski

The SLAP 104 are ultra-playful skis, both on slope and in deep snow ! Being  the most manoeuvrable, it is possible to use them in all conditions. They are so intuitive that you will forget that you have 104mm below your feet ! Easy off-piste, they are as easy on-piste : The ski has an excellent grip which allows you to carve on hard snow. 
Full review from backcountryskiingcanada.com
Performances
Bastien, head of R&D team, optimized the ski-snow contact leveraging "Ze Link" technology. Vibrations are 100% absorbed thanks to "Stability Link". Its 5-point shape promotes ultra fun skiing! Skis are kept light with a poplar and paulownia wood core. The four layers of multi-axial glass fibres provide the required rigidity and power for the right stability and performance in all conditions.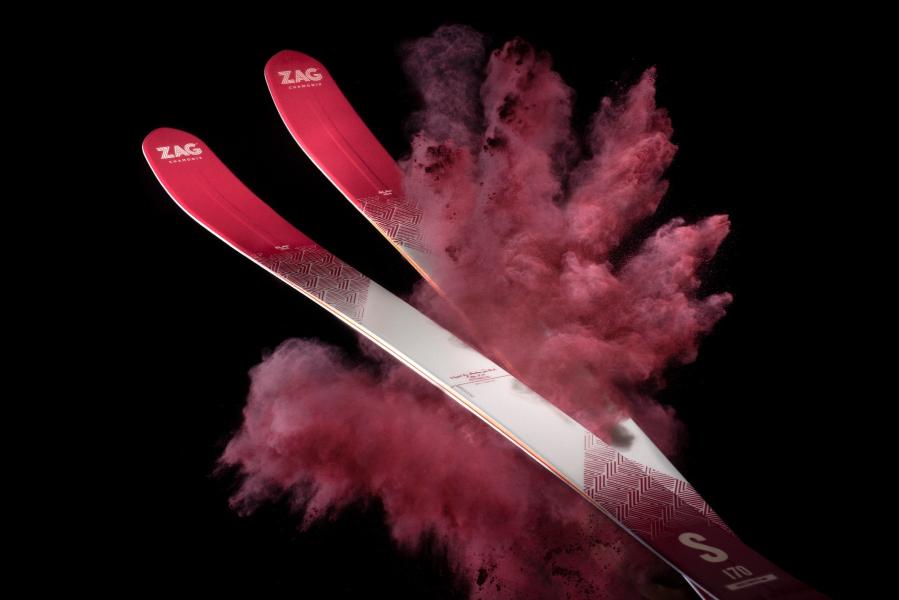 Sensations
In terms of sensations, the SLAP 104 will suit both the skier aiming to curve on hard snow and as well as the skier going to float powder. This ski has undoubtedly embodied versatility both on and off-piste! This year, the SLAP 104 can be found in 5 different sizes. Experienced skiers should take skis longer than their own height to gain stability at high speed.

SLAP 112: The iconic Freeride Ski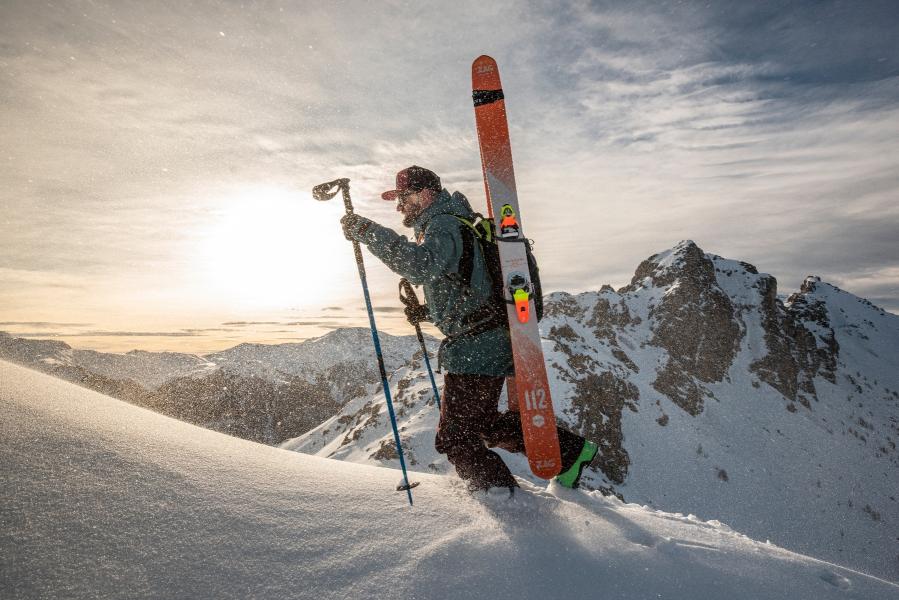 Without a doubt, it is one of the models most appreciated by our freeride ambassadors. SLAP 112 will continue to satisfy them through  the seasons : SLAP 112 is known for having enabled Wadeck Gorack to win the legendary Verbier Xtreme competition in the Freeride World Tour circuit.
Performances
Allowing both to cruise with absolute comfort in powder snow fields and to reach exceptional speeds with disconcerting stability in each face of freeride, the SLAP 112 empowers you to surpass yourself - just as Wadeck Gorack did ! 
We are using a special technology also used in Tennis and Bike equipment : From this year, we are inserting new flax fibres to allow maximum absorption of vibrations. The new SLAP range is the result of long serious work at our ZagLab. The R&D team  have found the perfect balance to satisfy every profile of free riders!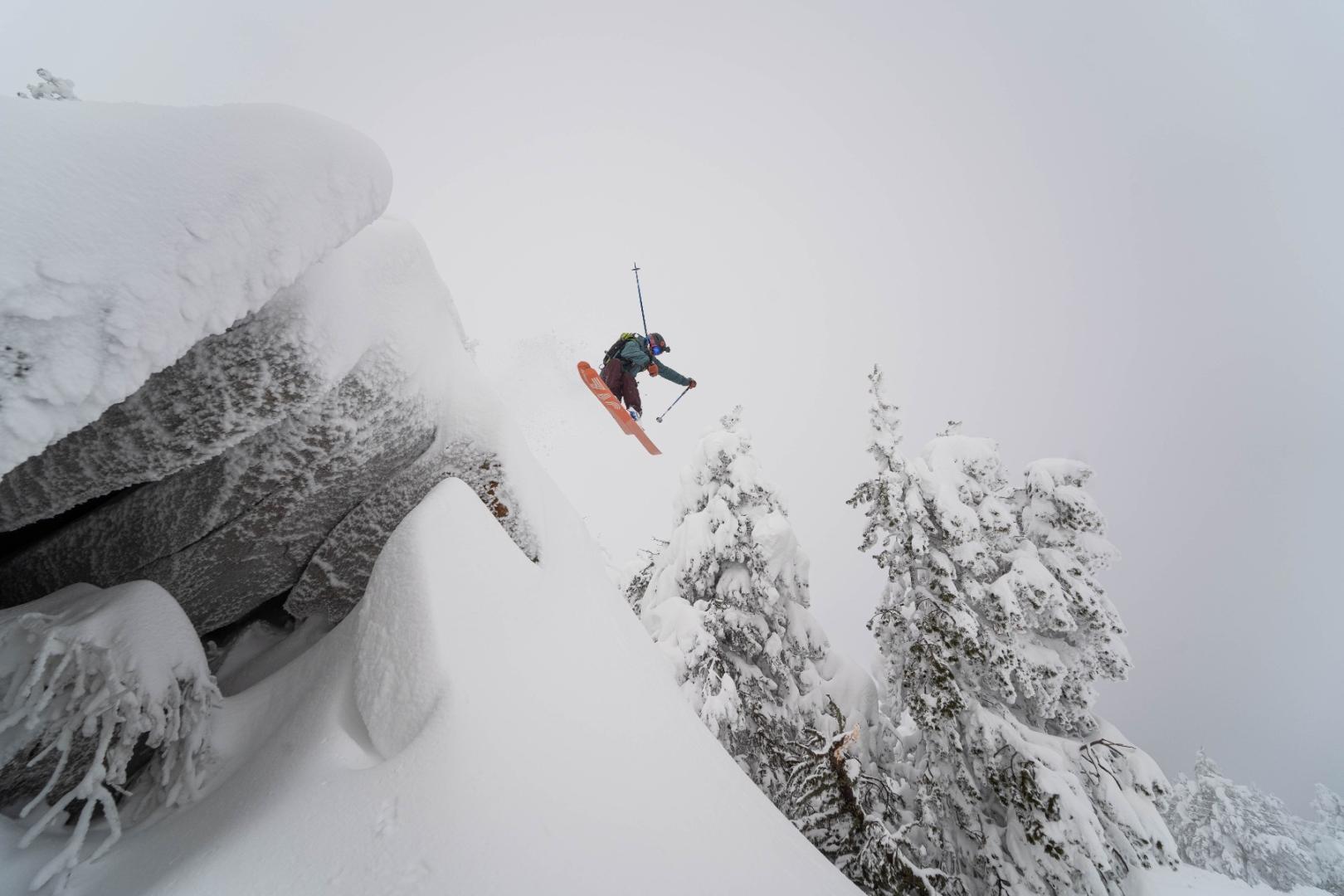 " It is the ski that I use the most during the season. I use it for almost all the steep rides despite its size. I get the complete harmony between the thrill of the descent, manoeuvrability and size. With this ski it is possible either to ski very tight or to make big turns at very high speed. The ski does not flinch, it does the job and I can concentrate on my run, for me it is the most important! "
Loïc CHAMEL, ZAG Ambassador & Ski Patrol in Chamonix
Sensations
With a ski that is 70% optimized off-piste, there is no doubt that the SLAP 112 is an authentic freeride ski! You will appreciate the manoeuvrability, the stability at high speed and as well as the ability to over-fly the powder thanks to its pronounced rocker.Easy to handle, the versatility will make this pair of skis as your "all-rounder" skis when you'll go off-piste!
With 4 different lengths, you will find the right ski to fit with your size! In order to gain stability at high speed, we generally recommend to take a ski that is slightly longer than you. To find out which size to choose, you may refer to the ZAG SKIS Size Guide.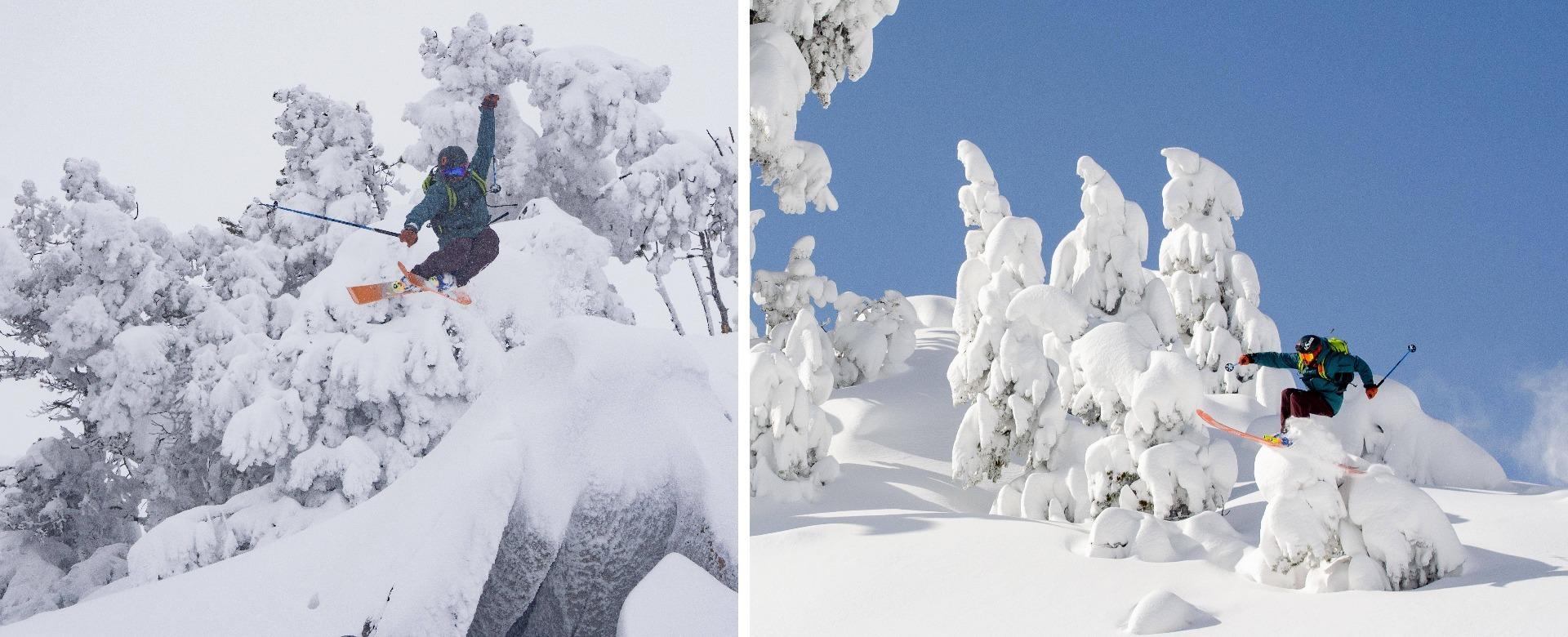 Exceptionally this year, we are honoured that the ski will be part of the collaboration we are doing together with our partner Haglofs. The SLAP 112 haglofs ltd edition will be a unique model with its own design. Combined with the brand new VASSI GORE-TEX PRO this SLAP will be your perfect weapon for the deep snow conditions.
SLAP 122: The non-sinkable Freeride Ski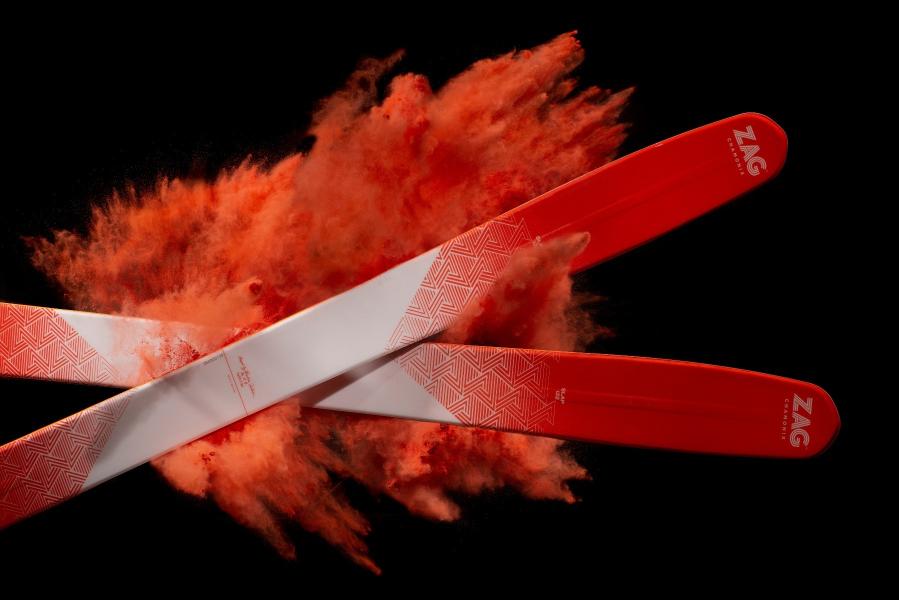 Avec une portance exceptionnelle, le SLAP 122 est sans conteste l'arme ultime à avoir avec soi pour les sorties en neige profonde. Ce sera votre meilleur allié pour les champs de poudre et les gros runs en forêt !
"Ultra-tolerant, the ZAG Slap 122 is able to adapt to all styles of skiers ! In powder or choppy snow, its excellent floatability will push you to go to your limit with confidence. Its 5-point shape enables greatest manoeuvrability in the forest! "
Skieur.com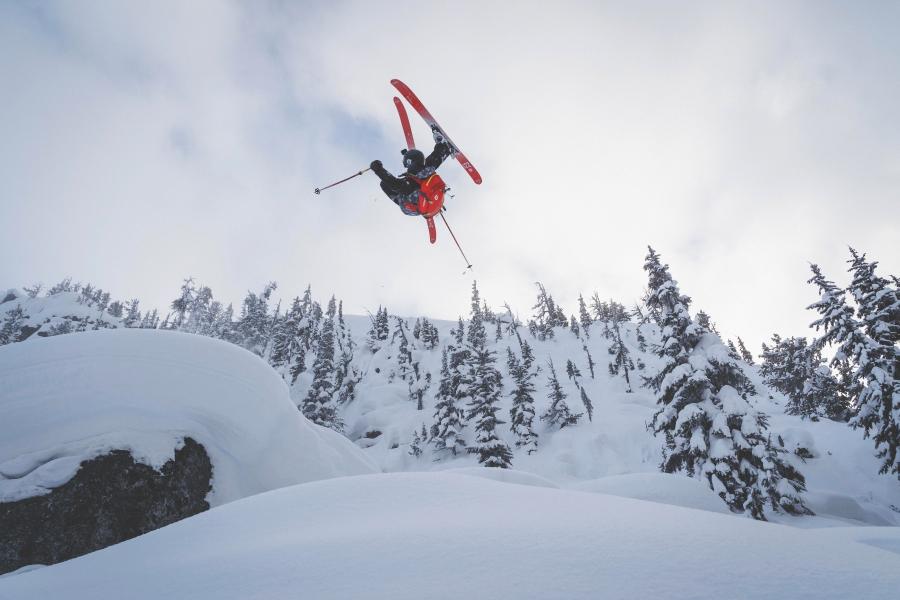 Performances
With a very light camber and its two long and progressive rockers, this ski has very generous dimensions. All the ingredients are together to make this SLAP 122 your best ally for the best ski conditions of the season. With a poplar and paulownia wood core for a light ski, the four layers of multi-axial glass fibres provide rigidity and power for more stability and performance in all conditions.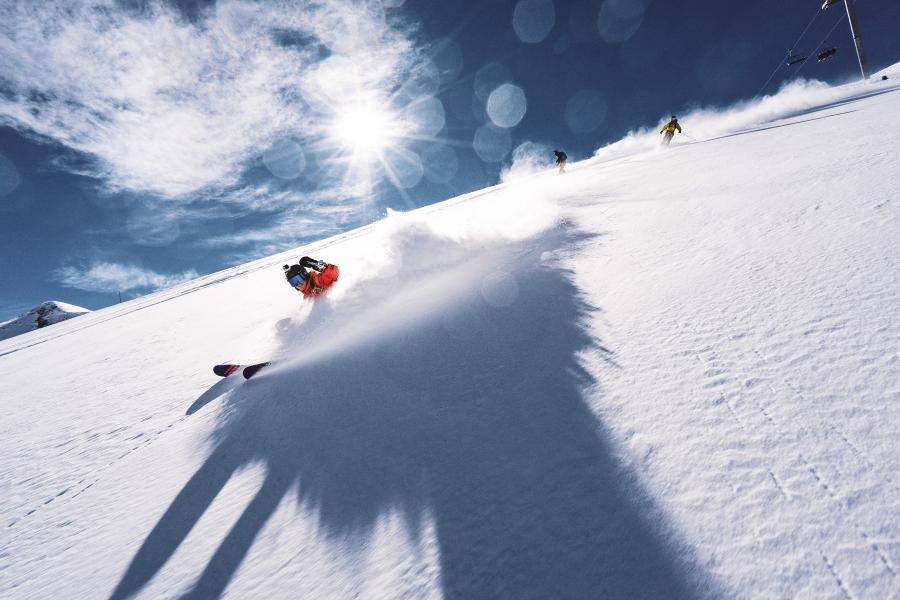 Sensations
You will value its off-piste skills. Especially designed for serious freeride outings, this ski is for highly demanding freeriders looking for big sensations at high and low speed !
For this very specific model, only three sizes are available. if like to ski with a well-defined profile, you are strongly advised to take one or two sizes above your size. For more information refer to our ZAG SKIS Size Guide.

With its floating profile, this SLAP 122 is undoubtedly the ultimate weapon to have for outings in deep snow. It will be your best ally for huge powder fields and big runs in the forest!